Global CNC Industries introduces new Capto™ quick-change Bolt-on tool Blocks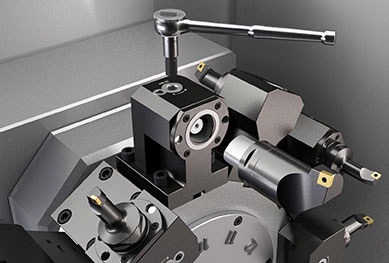 Global CNC Industries, Ltd. Plymouth Michigan has been manufacturing CNC lathe tooling for over 35 years. Our newly designed Capto™ blocks bring a precise, rigid, and accurate quick-change solution to enhance production in the manufacturing environment. Our Capto™ Bolt-on Tool Blocks optimize machinery use by reducing the time it takes to set up and change between tools. This allows for an increase in part production with higher efficiency.
Global CNC designed Capto™ tool blocks are developed using advanced machining and grinding methods, strictly using only superior alloy steel. These methods ensure the highest quality Capto™ connection that allows for easy tool replacement. Global CNC Capto tool system is available in Capto C4 and C5. Global CNC uses Original Capto® components from the Sandvik company.
There are many advantages to using a Global CNC. Capto™ Toolholder:
It is a very rigid system that allows for easy tool replacement with limited changes in pre-determined offsets, thus reducing set-up times.
It is a great problem solver for deep reach applications
It has improved stability for high volume lathes
There is effortless understanding of use when switching out tools, even when tight tolerances are required
Increases productivity by using the same bolt-on toolholder with a variety of extension and reduction adaptors
Capto™ Modularity provides exceptional flexibility while allowing for minimized tool inventory saving time and money.
Integrating the proven Coromant Capto® quick change technology with the highest quality Bolt-on Tool Blocks from Global CNC will have your CNC Lathe Department running at lightning speed productivity levels.